1/4 Scale Spitfire Replicas
Supermarine Works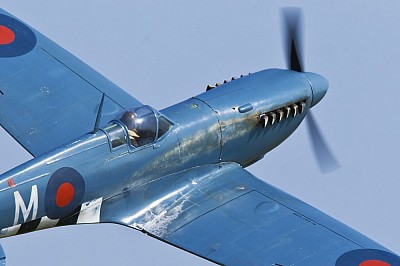 SUPERMARINE WORKS prototype Spitfire
Welcome to Supermarine Works. Our business champions Britain's most famous fighter and is devoted to manufacturing and painting 1/4/ scale Spitfire models and full size replicas.
We provide full pattern making services to briefs.  Our speciality, is the painting and finishing of scale, and full size replica aircraft, where we take a basic air frame and transform it into a complete representation of the original Spitfire.

The crucial part of this art is to give the airframe a finish that represents total realism, including all weathering, be it subtle or heavily ingrained.  On this site you can find and order the now famous Supermarine Works all composite, 1/4 scale Spitfire for static display applications indoors and out. Links to films of the RC Spitfire version in action .
BACKGROUND. Mike Booth is a "dyed in the wool" designer and pattern maker who has worked commercially in motor racing composites, Airbus Industries and the film industry. He is also a commercial artist.  In 1989 he established the Flying Legends brand name, and then the current registered trademark and logo Supermarine Works.
NB. Mike Booth identifies himself as the designer and copyright holder of this Spitfire, the shield logo, including the brand names 'Flying Legends, first published by him in 1989 and the registered trademark SUPERMARINE WORKS, as his intellectual property.